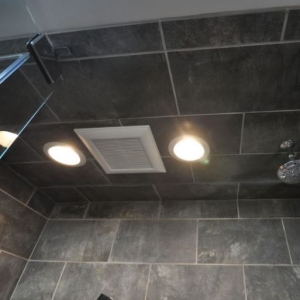 Within any home, the exhaust fan that's part of a bathroom rarely elicits a great deal of conversation or thought. That situation tends to change dramatically when any bathroom exhaust fan repair is needed, primarily due to the value it brings when it comes to ridding that area of moisture, fumes from cleaning products and other unpleasant odors.

Eventually, the time will arrive when a bathroom exhaust fan replacement will become a necessity. After all, appliances have a maximum lifespan, just like everything else. Yet there often tends to be a reluctance about the decision to replace exhaust fan appliances by contacting a residential electrician, largely due to potential costs.
Listed below are three clear signs that point to contacting an Arlington licensed electrician for your bathroom exhaust fan replacement:
No Fan Activity
The simple flick of a switch is supposed to result in the exhaust fan delivering its intended results. The problem is that sometimes, dead silence is all that's heard, which can be a clearly ominous sign that either a bathroom exhaust fan repair or replacement is on the horizon.
In some cases, the problem could lie in the switch itself, which will also entail contacting a residential electrician. That doesn't occur too often, with the ultimate conclusion determining that you need to replace exhaust fan parts or the entire fan itself.
Slow Starts
The spinning of the bathroom exhaust fan blades should be instantaneous once you hit a switch. Eyebrows are raised and concerns amplified when a fan takes its time to get going or is simply sputtering after a normal span of time.
By this point, the exhaust fan may be past the point of repair. Even if fixing was a possibility, trying to save some money with some DIY work or employing a handyman may isn't the best strategy That's because a residential electrician knows the proper protocol that puts a premium on doing this work safely.
Unwanted Noise
You don't need to be an Arlington licensed electrician to realize that something is seriously wrong with your bathroom fan when the noise coming from it is loud and unpleasant. The quiet hum of that fan is one of the chief reasons why this particular appliance doesn't get a lot of notice until there's a problem.
That particular noise could be delivering an annoying clanking sound or a disturbing aural presentation that mimics rumbling. Regardless of what you happen to be hearing, such red flags mean that the blades on the fan are out of alignment or the appliance's bearings are on their last legs. At that point, repair is out the window and replacement is the only option.
Lack of Ventilation
Any poorly-ventilated room isn't one in which anyone wants to spend any extended amount of time in, with individuals afflicted with respiratory issues potentially putting their health at risk. The cause could be ductwork that's clogged, a remodeled bathroom that neglected to upgrade the size of the exhaust fan or simply an increased amount of activity in this room.
Going In the Right Direction
J&B Electrical Services is a trusted source that can send an Arlington licensed electrician when you require bathroom exhaust fan repair or need to replace exhaust fan parts. A full bathroom exhaust fan replacement or upgrade is also something we handle on a regular basis, which means that it's handled promptly and performed at a fair price.
So when the time arrives that you need such work done, please contact us either by phone at 817-266-5499 or simply fill out our online form. We've had countless satisfied customers over the years and want you to put our faith in us. We look forward to hearing from you.