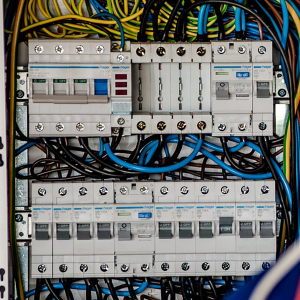 Like many different facets of life, homeowners probably don't spend a great deal pondering the makeup of their electric panel. They know of its importance, but their busy life doesn't offer them the luxury of undertaking a further exploration about the basics attached to this integral device.
Age Differences
Depending on the age of a home, the panel that should be working can vary. A residence that's been around for decades will often have the traditional fuse or breaker box. That's where a homeowner can usually handle standard breaker box repair by replacing one or more fuses that might have blown out for any number of reasons.
The growth in new and remodeled homes has allowed the concept of a fuse box to evolve into what many refer to as the load center. Here, wires and cables that should be installed by a licensed residential electrician are connected, with the service wire and branch circuits working in concert to allow a smooth flow of electricity.
Location, Location, Location
The location of an electrical panel is usually in a utility area or basement, with a distinctive gray metal box helping it to stand out. Opening the panel will show an array of fuses or circuit breakers that each have their own focus and should be so identified in the event that any electrical panel repair or upgrades are needed.
The Makeup
Any new homes or residences that have undertaken electrical panel upgrades will have two pole breakers as part of their electrical panel. Each can cover different components of what a particular home may need, with the single version having a capacity of 120 amps that will handle small appliances. That's in contrast to the double breaker that has twice the level of amps in order to handle a home's larger appliances.
Homeowners with older residences may be looking at expanding the size of a home or simply modernizing it, which means that electrical panel upgrades will be in order. For the newer homes that are or may be considering a larger remodeling project, the electrical panel in place should probably have expansion slots available.
There can be instances where emergencies arise and a home's power needs to be shut off quickly, which explains the presence of the service disconnect switch. Any repair, whether it's handled in DIY fashion or though a residential electrician, will take advantage of that switch in order to maximize safety.
Staying Alert to Clear Signs
Electrical panel repair might not be as serious as to shut things down completely. However, glaring examples like loose wires have to be addressed quickly, along with other breaker box repair that may be the result of damage from weather or other unexpected events.
Making Things Easy
An electric panel is often the lifeblood of a home, with any sort of issue or breakdown making life more difficult for a homeowner. J&B Electrical Services has an established track record in handling both electrical panel repair or replacement with electrical panel upgrades and can provide trusted service on your home.
So when the time arrives that breaker box repair or any other electrical concern arises, make sure to contact the trusted professionals at J&B. We offer a competitive price and provide a residential electrician who's been trained to detect such issues as quickly as possible. Contact us at 817-266-5499 and let us get you back up and running.