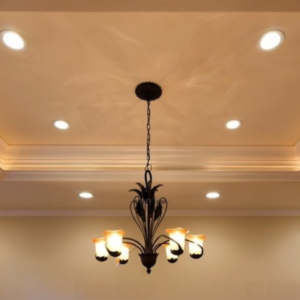 The different lighting options available to a homeowner offer them certain choices when the need arrives. One of those options involves recessed lighting installation, which is the type of job that a residential electrician has the requisite background to undertake.

Any recessed lighting installation can offer benefits, with advancements regarding LED lighting installation taking it one step further. Listed below are five reasons why a recessed LED lighting installation can offer the type of benefits that make such an effort worthwhile:
A Feeling of Roominess
Some rooms have lower ceilings than others, which combined with lighting fixtures that might currently be in place, offer a cramped feel to the surroundings. While this standard setup doesn't necessarily rise to the level of being claustrophobic, it's still something that can infringe on the comfort of enjoying the room. By installing recessed lighting, the image of that same area suddenly changes from tight to roomy, which in turn makes it more inviting.
The Value of Versatility
Any residential electrician will tell you that not all of their work involving any sort of light installation can simply be transplanted from room to room. Some jobs involve areas where water is an ever-present concern, such as the bathroom. From a more specific standpoint, the shower area is not the place you want dangling wires and other potentially dangerous concerns.
The good news is that when you have a recessed LED lighting installation performed by that electrician, you can protect you and your family because all that will be visible is the necessary amount of light and nothing more. Other options can't say the same.
Style and Aesthetics
Trendiness when it comes to lighting can turn a room or even an entire home into something dated and can also offer an unappealing look. That's avoided on both fronts in this case because this is a look that stays consistent and also offers a smooth appearance that's unobtrusive. Simplicity has a style all its own and recessed lighting fits this specific category.
Protecting the Wallet
One of the reasons that LED lighting has exploded in popularity over the past few decades is because of the energy efficiency it delivers. That efficiency then manages to reduce monthly electricity costs, which is money that stays within the family budget. Given the simple fact that electrical costs are a monthly fixed expense, it should register with everyone that having a recessed lighting installation that take advantage of LED is the most logical approach.
The Lowering of Concern
Past generations have had to deal with the issues of lighting fixtures that dangle from the ceiling, simply because that was what was available. That's meant having to concern yourself with the potential danger of children seeing it as an attractive nuisance. It's also meant the settlement of dust onto the fixtures, which then requires cleaning that may be a dicey proposition in some circumstances. Once again, a recessed lighting installation addresses the matter at hand.
The People to Trust
Given the multiple benefits explained above, you might be enthusiastic enough to try and handle that recessed LED lighting installation all by yourself. A better idea is to let a highly-trained and certified residential electrician tackle this job, given the experience needed for this job and their ability to avoid potentially dangerous pitfalls.
J&B Electrical Services has that background in installing recessed lighting and can also repair, replace and upgrade other lighting you might need. Just give us a call at 817-266-5499 and we'll make sure to get your lighting order started.