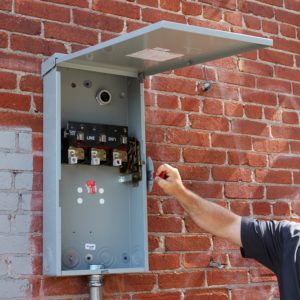 When it comes to residential breaker box repairs or electrical panel upgrades, most homeowners likely don't consider the issue until situations develop that become painfully obvious, especially with the costs involved with electrical panel repair. So it helps to know how to spot the early signs of trouble or get a sense that an upgrade is the best move to make.

Listed below are some clear indicators that the decision to upgrade breaker box matters or have a licensed electrician handle any repairs is the right call:
Still Relying on Fuses
Many older homes continue to run with fuses, which isn't necessarily a concern. However, with the major increase in home appliances and especially electrical devices, it's a situation that's potentially dangerous. Therefore, making the choice to upgrade breaker box concerns like these means shifting to circuit breakers.
Doing so will avoid the problem of a fuse melting from excessive current that's flowing, something that could spark a fire. That's why many insurance companies now refuse to insure homes that rely on fuses and is something that can be addressed through electrical panel upgrades. Once circuit breakers are installed, they only need to be reset when overloading becomes an issue.
The Arrival of New Appliances
Older appliances can be managed with outdated electrical options. However, if a remodeling job or simple replacement of a worn-out item is on the horizon, it's wise to schedule an upgrade in this department. Otherwise, you're likely looking at electrical panel repair sometime in the future, since the breaker box won't be able to handle such energy-consuming devices.
The Need for More Plugs
Even if no appliance deliveries are expected at your home, the sheer number of new electronic devices that have been acquired over the past few decades likely has increased your use of power strips and extension cords. Not taking that additional use of electricity into account can lead to residential breaker box repairs.
One way to avoid that hassle to is to schedule an upgrade, which can mean having new outlets installed. One key reason why that's important is because of the potential fire hazard coming from an extension cord that provides multiple devices with electricity.
Wiring Worries
Even if everything is status quo in your life, the onset of things like receiving a shock when touching an appliance or lights that either flicker or dim for no reason should serve as red alerts. In some cases, this concern can be represented by a burning smell that doesn't go away or outlets that either spark or are discolored.
The simple reason why ignoring these situations could prove to be disastrous is because all of the above are caused by wiring issues. That can put your home and the lives of you and your family at risk, which could be a devastating price to pay for ignoring residential breaker box repair.
Making Your Life Easier
If you plan to spend the next few decades in your home, it makes sense to contact J&B Electrical Services to make allowances for the future. Our licensed electricians can help upgrade breaker box concerns and take care of any electrical panel repair and replacement.
Our electrical panel upgrades eliminate the issues previously mentioned from surfacing. Plus, you'll know that you're working with a local company offering a fair price that doesn't add hidden fees and offers a 10 percent discount to first-time customers. J&B Electric has been around for over two decades and can help you with your electrical problems. Give us a call today at 817-266-5499.