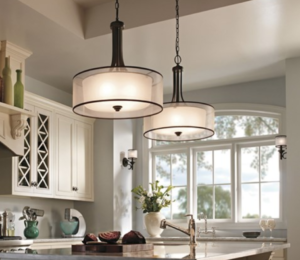 The holidays are a time when families get together from both nearby and afar, with some also welcoming friends to their home to enjoy the shared excitement. For those hosting such festivities, setting the atmosphere is often an important aspect that helps create lasting memories that will still be remembered years from now.

When it comes to lighting concerns during this particular time frame, many homeowners may focus on the outside of their residence. Others may be more concerned with living rooms, basements or other areas where family and visitors might end up congregating.
A Subtle Asset
The kitchen might not seem to be an important area of consideration when it comes to this issue. Yet going forth with kitchen lighting upgrades can end up being beneficial when welcoming friends or putting forth the sumptuous feasts that many families prepare every year.
Making the decision to upgrade kitchen lighting before or during the holiday season helps ensure that bright and festive not only represents the emotions of all involved, but also delivers the visual impact being sought. After all, few people want to be surrounded by a darker atmosphere at that time of year, something that kitchen lighting upgrades can help avoid.
Those tasked with preparing food during the holidays don't want that process to be handicapped by out-of-date lighting that could be of great value in certain areas. For example, lighting in areas like a pantry can help make finding the seemingly never-ending supply of ingredients needed for your food preparation much easier.
A Relaxing Option
Using a licensed residential electrician as your kitchen lighting installer for these matters can offer peace of mind at a time of year where the hectic pace often brings with it unwanted levels of stress. By making the decision to upgrade kitchen lighting in this manner, concerns over potential issues can quickly evaporate.
A professional kitchen lighting installer has been rigorously trained to do a job right, which means that your holiday party won't be ruined or delayed because the lights in your kitchen evoke a dour atmosphere or cooking meals becomes more difficult. Using a residential electrician also gives protection to the homeowner when it comes to things like warranties for work performed.
Important Considerations
In past generations, the kitchen was largely focused on simply the preparation of a meal. That philosophy has since evolved, with areas like islands within the kitchen area now serving as places where guests come together. This often results from certain areas becoming crowded or more hectic. Adding lighting to this specific area helps offer a welcoming oasis that leaves guests with a positive impression.
Another aspect of the value of making kitchen lighting upgrades is that with all of that activity taking place in this area, the likelihood of higher electricity bills can often deliver a negative jolt come January. Upgrading antiquated fluorescent lighting with LED not only brightens things up but also will put money back in your wallet in the years ahead.
Trusted Partners
J&B Electrical Services has served as a kitchen lighting installer for countless residents of the Dallas-Fort Worth area and is ready to do the same for those seeking to have it done during the holidays. The residential electrician we send to your home has a full grasp of what's involved and gets right to work.
So when you're seeking to upgrade kitchen lighting, it makes sense to choose us in order to make sure that your holiday is a memorable one. Just call us at 817-266-5499 or fill out our online form.