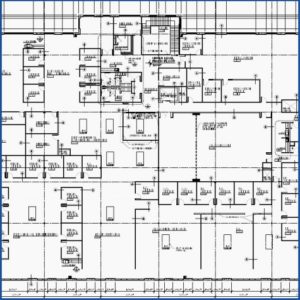 When a commercial electrician is given the task of either wiring a facility or undertaking repairs on it, using a commercial electrical wiring diagram is something that can offer assistance when it comes to getting it done right. That's because it offers the requisite amount of detail necessary for any electrician in Arlington Texas.

Not bothering to use these diagrams for whatever endeavor is being addressed can be a recipe for disaster that can turn a simple and inexpensive job into a costly mistake. A commercial electrician needs to have a complete picture in front of them, with the intricacies of these diagrams providing a clear window into a particular system.
Listed below are some of the main reasons that using a commercial electrical wiring diagram makes perfect sense:
The Financial Component
Given the varied nature of these types of jobs, an electrician in Arlington Texas doesn't have the luxury of simply purchasing the same amount of wiring for every job. They need to have a strong sense of the scope of their work order since a mistake in this area will be reflected in the final costs involved.
For example, trying to properly gauge how much wiring is needed is something that even an experienced electrician can't peg exactly. That may lead to purchasing too much wiring, which then effectively goes to waste, or requires an additional budget expense to address the need for more wiring. In either case, it's a costly oversight that can be a source of aggravation for a client.
The Time Element
The building of a home or the construction of a business entity is something that the individual or company that's making the investment watches carefully. They have a clear expectation of when a job should be completed, which allows them to schedule a move accordingly.
That means frustration will quickly set in for them if they find that an electrician's mistake or lack of adherence to the building codes in place is a cause for delay. By using these diagrams, an electrician can pinpoint exactly where certain areas are situated, which keeps things on track and offers peace of mind to everyone involved.
The Concern Over Safety
Playing a guessing game is something an electrician never wants to do, which explains their dedicated reliance on following these diagrams. Their own safety can be compromised if they aren't aware of facets of a particular structure that could cause harm at some point. This type of wiring diagram helps remove such dangers.
Without the safety blanket that a diagram provides, the volatility that any electrical concern brings can deliver serious injury and even death. From a simple business perspective, that means delays that can have a direct impact that ties in with timing concerns. However, from a human standpoint, these dangers can end up taking a life, which could invite litigation down the road.
Choices Made Simple
Spending time over concerns related to commercial electrical wiring isn't really a wise investment for either an individual or business. That burden can be alleviated when the choice is made to work with J&B Electrical Services in providing a licensed and experienced commercial electrician for a particular job.
We offer professional aid when it comes to electrical panels, whether it involves repairs, a decision to upgrade or an outright replacement. So when the time comes that you need an electrician in Arlington Texas that knows their way around wiring diagrams and all that entails, make sure to contact J&B Electrical Services at 817-266-5499 or fill out our online contact form.