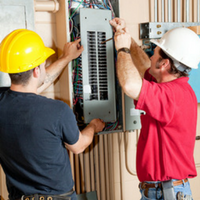 The consistency of having electricity at your fingertips is often taken for granted, even though residential electrical repairs are inevitable for North Texas homeowners. While some of these repairs may seem like simple tasks, there are clear signs when it's best to call an Arlington electrician to handle the job.
Overloaded Circuits
The avalanche of available technology within the past generation has made the extension cord an invaluable component of virtually every homeowner's life. However, with all these additional items requiring electrical power, the available outlets can be taxed to their limit. This is especially true when it comes to those living in older homes that weren't set up to accommodate such an influx of considerations.
When this situation develops, it's something that can potentially lead to trouble. One of the easiest ways to eliminate the problem is to contact an electrician in Arlington that can add additional circuits. This approach offers a certain peace of mind by eliminating fears of a home fire developing from such overloads.
Lack of Three-Pronged Options
The development of the three-prong plug helped usher in a new era that focused a greater emphasis on safety. While the approach has been helpful in reducing potential dangers, older homes are likely to still have outlets that can only handle the two-pronged variety. That leads to the use of extension cords, with the aforementioned dangers of overloading once again surfacing. An Arlington electrician can tackle this task and make sure that any home is safely grounded.
The Flicker of Lights
Motorized appliances require a little more electricity than other areas, which can mean that the lighting within a home can be vulnerable to either flickering or being dimmed. Rather than attempt to burden all electrical capacity on a single outlet, it's best to have an Arlington electrician create circuits that are uniquely focused on those appliances that demand.
Underneath Cords
Older homes can also fall victim to previous practices like having electrical cords either set up in unwieldy fashion or placed underneath a rug. This is another potential powder keg for home safety that can lead to residential electrical repairs down the road. A much easier proposition is to contact an electrician in Arlington that's fully equipped to expand the available outlets inside the residence.
Too Much Warmth Can Leave Chills
The warmth in this case deals with any plug or electrical aspect that can be hot to the touch. When this is the case, that's a fairly clear sign of an outlet that's being taxed beyond its limit. Another tipoff is when you receive even a small shock when touching an outlet or switch. The age of a home can usually determine what type of electrical wires are in place, with homes that have aluminum wiring offering the greatest risk.
Fuse or Breaker Problems
A fuse can blow at any time and sometimes be easy to replace, though the wiring should be upgraded if possible. The problem is that when some blown fuses or tripped breakers take place, discovering the origin of why it happened can be difficult. That's one of the reasons having access to a quality electrician is so important.
Placing Faith in Veteran Electricians
J & B Electrical Services has over two decades worth of experience in both residential electrical repairs and those on a commercial level. We're fully equipped to upgrade or replace electrical panels, offering prompt attention and a legacy of integrity with every job.
Having an electrician in Arlington to do the job right and is available around the clock is important. That's why making the decision to go with J & B Electrical Services is the easiest decision to make. Contact us today and let us handle the job for you!