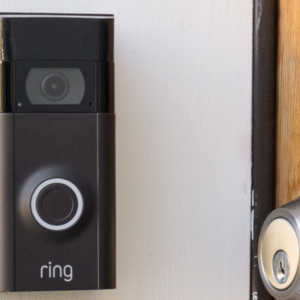 The presence of a home doorbell is something that's been around for ages, with that span of time offering countless incarnations of a product that a residential electrician could install. In those simpler days, having a doorbell meant that someone had to be in a home to be aware of either a potential visitor or criminal at their door.
Now, continued advancements in such technologies mean that using a smart doorbell installer is the best route to take when you want the job performed correctly. Major companies that offer such items include Nest and Ring Doorbell, with many of these businesses extolling the ease when it comes to installing their equipment.

However, the reality is that hiring someone licensed for this job offers a reassuring feeling that the job will be done both correctly and in prompt fashion. Having a Nest electrician, an electrician for Ring Doorbell or any other licensed individual who knows their way around any sort of smart home installation can help avoid complications that could crop up.
The Value of Smart Doorbell Installation
For example, a smart doorbell installer will put in a doorbell transformer and thereby drastically reduce the amount of electric voltage to an amount that works in concert with the device. The potential dangers involved with working with such matters help bolster the case for using this type of installer for your doorbell transformer.
One of those dangers is a simple one involving the turning off the electricity before beginning this process. That may seem like a basic step, but actually performing the task beforehand requires knowing the proper steps in addressing the issue. That can be complicated when such jobs are handled by an amateur handyman or someone who fancies themselves as a weekend electrician.
The Wonders of Video Surveillance
Of course, one of the chief assets that make smart doorbells so popular right now is the ability to see from afar who's at your door. That's become much more important given the drastic rise in stolen packages that are left unattended in home mailboxes or porches.
Now, having video of the criminal act allows for local law enforcement to use such evidence to more confidently pursue and capture the perpetrator. A residential electrician who's been properly trained as a smart doorbell installer helps put such protective measures in place.
Wiring Made Simple
A smart home installation that also includes doorbells offers the option of going wireless, though that means having a working battery in place. Those homeowners who want more simplicity can adapt it to their current doorbell, which will involve having it properly wired.
In such instances, it doesn't matter if you require the services of a Nest electrician, an electrician for Ring Doorbell or other option. Knowing the ins and outs of proper wiring is standard for trained electricians, so making sure things go smoothly from the outset means working with such individuals.
The Easy Answer
One simple call to J&B Electrical Services will help ensure that any facet of your smart home installation is done right the first time. The residential electrician that we send out has been rigorously tested to handle a range of different brands. That includes serving as you Nest electrician or as your electrician for Ring Doorbell.
That sort of background helps avoid you having to search for a doorbell transformer or other task in an effort to save some money. J&B can either replace or upgrade your current situation or repair it, so make sure to contact us if you're having issues. Simply call us at 817-266-5499 or fill out the contact form on our website. We look forward to serving you.