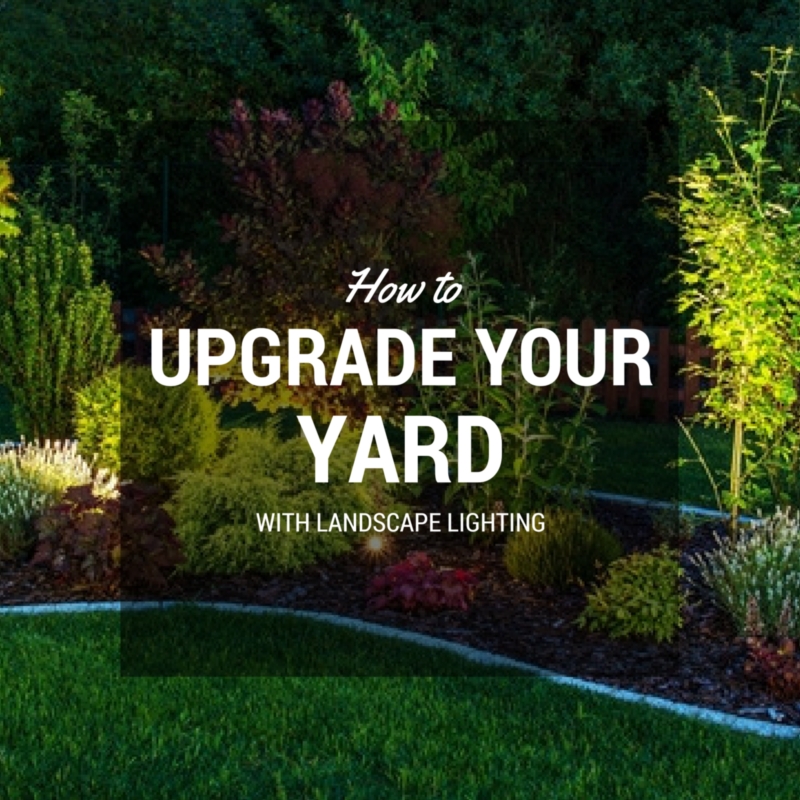 The best exterior home improvements offer affordable options and real benefits with plenty of room for creative design. Professional outdoor landscape lighting across Mansfield and throughout the Metroplex brings bright ideas to the table that bathe your house in a brand new glow. With the help of an experienced master electrician and a little advanced planning, it's easy and exciting to upgrade your yard with the latest in beautiful landscape lighting.
Decide Where You Want to Shine
Every great project begins with a plan, so make a few sketches, and decide where you want to shine a light on your outdoor living. If the grill out back commands center stage on weekends, you need more than just a porch light. Imagine enjoying evening walks along softly lit pathways through your garden. A home's architectural style takes on special good looks at night with the right illumination. Focus on areas outside the house that deserve well-lit accents, and don't overlook practical ideas around entrances, stairways and gates. There's no limit to the designs and electrical services in Arlington TX that homeowners can apply to bright landscape upgrades with the help of a professional who specializes in outdoor lighting installations.
Choose Fixtures That Fit Your Plans
A master electrician is your best resource for choosing fixtures that fit your plans. He works closely with you to make sure that you enjoy the type of outdoor landscape lighting every Burleson home needs to look its best. He helps avoid mistakes that result in harsh glares against exterior walls by arranging spotlights that cast a soft glow on architectural lines. His expertise brings decks out of the shadows with lanterns and sconces that keep areas warm and inviting, and his path light installations define borders and guide guests down sidewalks. Your choices in outdoor lighting range from bullets and canisters to poles and wall fixtures, so rely on an experienced professional to help you choose the best lights for different areas around the house.
Double Down on the Benefits
Any upgrade to a home's exterior boosts important curb appeal and property value. However, outdoor landscape lighting for Mansfield homes across the Metroplex also adds an extra layer of nighttime security. Well-planned installations illuminate back and front yards as well as driveways, side entrances and fence gates. You're safer from the garage to the front door in a well-lit environment that always glows with a warm welcome at the end of the day. Sidewalks and deck stairs are easier to navigate in the dark when your steps are guided by built-in lighting. As you make plans for brightening up the landscape, check with your property insurance carrier, and ask about rate discounts based on outdoor security lighting.
Work With Professional Advantages
Installing a new front porch fixture might be a DIY job, but landscape lighting is a specialty requiring the services of a licensed electrician. He understands code compliance, offers a range of options and knows how to balance aesthetics with function. You want the kind of beautiful outdoor landscape lighting that Burleson homeowners really enjoy, but your electrician also integrates extra security and ease of use into exterior lighting. Motion sensors and auto-timers add self-activating muscle to outdoor systems while remote-control apps put it all at your fingertips on smartphones, tablets and laptops. When you work with a full-service master electrician, you enjoy professional advantages that just aren't available on shelves at the home improvement center.
When you're ready to light up the night outside and illuminate the best all around the house, we're always happy to help. For more than 20 years, J&B Electrical Services in Arlington TX has proudly designed and installed residential and commercial landscape lighting, and we take care of all types of outdoor projects across the Metroplex. Our estimates are always free, so just give us a call at 817-266-5499, or contact us through our online quote form. We look forward to shining a bright, new light on your best outdoor ideas.