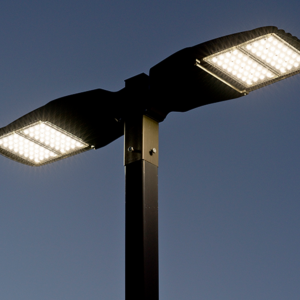 Any business that welcomes customers or clients into their store or building will make available a parking lot for their convenience. If such activity takes place before daytime arrives or after the sun goes down, the need for parking lot lighting becomes clearly evident. In most cases, such lighting can also be seen as a safety measure to scare the criminal element.
Regardless of the particular needs of such entities, advancements in lighting in recent decades make clear why a decision to upgrade parking lot lighting is a wise course of action. In particular, any commercial lighting installation that involves LED parking lot lighting makes the most sense.

Any commercial electrician Arlington businesses have used in the past knows very well why LED parking lot lighting is such a logical choice. These include:
Better Quality
Standard parking lot lights have always varied when it comes to quality, a status that often depends on the willingness of that business operator to invest in a good system. When you have an electrician in Arlington upgrade parking lot lighting with LED's, that value literally shines bright.
Once that commercial lighting installation is completed, the visual impact of such a change is unmistakable. That changes what might otherwise be a foreboding place where people fear for their safety into a brightly-lit facility where those same individuals have a better sense of where their car is located.
Lower Energy Use
Parking lots that are otherwise run in a professional manner will have a good deal of lighting, with the quality of that investment again open to the individual firm. That means a large monthly fixed cost that can materially affect the bottom line, a situation that can be alleviated when a call is put in for an electrician in Arlington.
Once that commercial electrician Arlington companies use completes such an installation, the level of reduction in energy usage can be a welcome relief to those paying such monthly bills. That's because it's estimated that LED's will help bring about a drop of up to 90 percent, thanks to fewer watts being needed and the focus on lighting instead of serving as a needless heat lamp.
Maintenance Cost Reduction
One of the frustrating aspects of traditional lighting has always been the need for frequently having to replace lights that burn out or otherwise become faulty. For those running parking lots, that often results in replacing all of the lights at the same time in order to avoid the added costs involved with bringing in an electrician as each light burns out. That can be a costly expense for lights that might otherwise be running fine.
However, using LED lighting can make such visits few and far between because such lights have a lifespan of over a decade, which again can help cushion a company's bottom line. Continually buying the lighting itself and then having the added labor costs can be a thing of the past when the shift to LED's is undertaken.
The Best Way to Go
The facts above clearly point out why any decision to upgrade parking lot lighting should be followed by a request for an electrician in Arlington from J&B Electrical Services. With over two decades of experience in the field, the commercial electrician Arlington businesses will have at their disposal has been rigorously trained in all aspects of any commercial lighting installation.
That continuing education the J & B electricians receive includes LED parking lot lighting, which ensures that once the job is completed, your investment will begin paying off. So if you're ready to make this move, contact us by phone at 817-266-5499 or simply fill out our online contact form on our website. We look forward to hearing from you.